Did I Assume the Risk?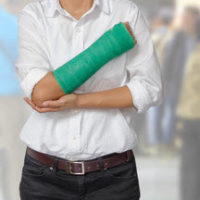 There is nothing quite like an adrenaline rush from doing your favorite activity. Do you like skydiving? Riding a rollercoaster? Or maybe you just like going for runs in the neighborhood? People love the thrill of different activities. There is a risk to most things in life, but certain activities carry a higher degree of risk. Normally, the amount of risk you take is a personal matter, but in a personal injury case, risk is important. Sometimes there is an assumption of risk that will prevent you from recovering damages from your injury.
Assumption of risk is a defense that states that a plaintiff has "assumed the risk" because the plaintiff knew that the activity could result in harm. Assumption of risk becomes an issue in instances where there is an inherent risk involved. Activities that have an inherent risk are contact sports, bungee jumping, skydiving, and the like.
Types of Assumption of Risk
There are two types of assumption of risk: implied and express.
Express Assumption of Risk. Express assumption of risk means that you have expressly stated that you will not hold another liable for injuries that are sustained doing an activity. Examples include any time that you sign a release of liability or waiver. This can be both verbal and in writing.

Implied Assumption of Risk. Implied assumption of risk refers to times that you are exposed to obvious dangers. An example of implied assumption of risk is going to a baseball game. You know that there is a chance that a stray ball could be hit into the stands towards you. Implied assumption is not usually in writing or verbal. However, an individual must knowingly and voluntarily subject themselves to said risk.
Does Florida Use Assumption of Risk?
Florida courts have limited the use of assumption of risk. Instead of a defendant using assumption of risk as an affirmative defense, risk is assessed in determining the outcome of the lawsuit. When assumption of risk was used purely as a defense, a plaintiff could be prevented from bringing their case if they were found to have caused their injuries, either in whole or partly. Now, comparative negligence is used in connection with assumption of risk.
Florida has a pure comparative negligence standard of recovery. This does not bar you from recovering from your injuries. The law states that "contributory fault chargeable to the claimant diminishes proportionately the amount awarded as economic and noneconomic damages for an injury attributable to the claimant's contributory fault, but does not recovery." This means that you can recover for the portion you are not at fault.
If you or a loved one have been injured and are thinking about filing a personal injury suit, the attorneys at Leifer & Ramirez in Florida can help. We use experience and passion to advocate for your rights. Contact us today for your free consultation.
Resources:
law.cornell.edu/wex/assumption_of_risk
leg.state.fl.us/statutes/index.cfm?App_mode=Display_Statute&URL=0700-0799/0768/Sections/0768.81.html