Common Injuries at Delray Beach Construction Sites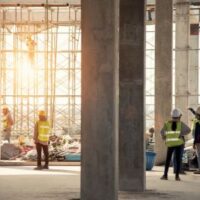 Construction sites are bustling with activity, and while these locations can be productive, impressive places, there are also numerous hazards for workers and individuals passing through construction zones.
Seasoned Boca Raton work injury lawyers are familiar with common injuries at job sites and know how to secure financial recovery after an injury. Connect with an attorney to discuss how legal assistance can help you secure a full and fair recovery package.
Falls from Heights and Falling Objects
Many of the dangerous accidents at construction sites involve falling from heights. There are a range of ways this can happen, individuals can fall from scaffolding, ladders, or rooftops. In all these instances, falls can result in severe injuries, including broken bones, spinal cord injuries, and brain injuries. It is the responsibility of the construction company to supply proper safety equipment and training to prevent such accidents, if possible.
Additionally, construction sites are full of heavy machinery and equipment, making individuals susceptible to being struck by falling tools, construction materials, or debris, which can lead to serious head injuries, fractures, and even loss of life. When setting up a job site safety protocols need to be implemented to rescue the risks of such accidents, such as having rules about securing equipment and enforcing the use of hard hats while on a job site.
And falls aren't the only issue when it comes to construction equipment. Heavy machinery, such as cranes, bulldozers, and forklifts are often essential machines for construction projects but can also pose significant dangers. People can get hurt when there is operator error, equipment malfunction, or inadequate training. Regular maintenance should be performed and everyone who comes in contact with heavy machinery needs to be educated on safe use.
Fires, Explosions, and Chemical Exposure
When a worksite includes flammable materials and equipment, there is the possibility of fires and explosions. Burns, smoke inhalation, and other severe injuries can occur so employers need to have comprehensive fire safety plans in place. And there needs to be access to firefighting equipment in case safety measures are not enough and an accident does occur.
Depending on the type of work they are performing, construction workers and individuals close to job sites may also encounter hazardous chemicals during their tasks, chemicals that can lead to chemical burns, respiratory problems, and long-term health issues. Along with providing proper safety training, personal protective equipment (PPE) should be distributed and regularly used to mitigate the risks of exposure when chemicals are present.
Insurance claims and legal action after a Delray Beach construction site injury often involve multiple parties, such as contractors, subcontractors, and equipment manufacturers. Working with a legal professional who has experience with similar cases is advised. Talk to a skilled Boca Raton work injury lawyer who can navigate the legal complexities and determine liability on your behalf.
What type of construction site injury are you recovering from? Whether you were hurt at a job site in Delray Beach, Deerfield Beach, or Pompano Beach, the accident attorneys at Leifer & Ramirez can help. Book your fee-free consultation today, call 561-660-9421.