What to Do After an Uber/Lyft Accident?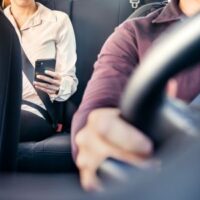 Being involved in a car accident can be a traumatizing and stressful experience. If you were riding as a passenger in an Uber or Lyft when the accident occurred, then the situation is even more complicated.
Knowing what to do in this scenario is key to making sure that your rights are protected and that you receive the compensation to which you are entitled. Fortunately, you do not have to deal with this situation alone. Our Boca Raton Uber & Lyft accident lawyers at Leifer & Ramirez can help you navigate the claims process after the crash and ensure that you are fairly compensated for your injuries and losses.
A Step-by-Step Guide for What to Do After an Uber/Lyft Accident
Here's a step-by-step guide for individuals who have been in an accident while riding with either of these ride-sharing companies.
Make sure everyone is okay. The most important thing to do in any accident situation is to make sure everyone involved is okay. If there are any injuries, it is important to call 911 immediately and seek medical attention.
Exchange Information with the parties involved. If possible, exchange insurance information with the parties involved and take pictures of their license plate, driver's license, and insurance card if they will let you. Even if the other driver appears to be at fault, it is still important for both parties involved in the accident to exchange information so that any claims can be properly handled by each party's insurance company. It's also important to note that Uber and Lyft both have $1 million liability policies for passengers who are injured in an accident caused by one of their drivers. However, the specifics of these policies vary from state to state.
Contact Uber/Lyft immediately. Once everyone involved has exchanged information and made sure everyone is safe, contact Uber or Lyft as soon as possible. Both companies have dedicated teams available 24/7 specifically designed for handling accidents involving their vehicles. Once you contact them, they will likely provide instructions on how best to proceed with filing a claim through them, depending on your location and individual circumstances. In addition, they may offer resources such as legal assistance or medical referral services depending on what is needed following an accident. For example, Uber has a page that allows riders to report when they have been involved in an accident.
Seek legal advice. It's always wise to seek legal advice from trusted professional sources when dealing with any kind of personal injury case. An experienced attorney can help guide you through the process while making sure all your rights are being protected along the way. An attorney will also be able to handle all negotiations with insurers on your behalf should it come down to filing a lawsuit against either party or its insurer for damages resulting from an accident. Having legal representation during this process can also ensure that you get proper compensation for injuries sustained during an incident like this one should it become necessary down the road.
No one ever wants to find themselves involved in a car accident—especially not when riding as a passenger with either Uber or Lyft. Following these steps can help ensure that all parties involved are taken care of properly should such an unfortunate event occur while using either service.
Reach Out to Leifer & Ramirez for Legal Advice
Contact our skilled and experienced lawyers at Leifer & Ramirez to get peace of mind knowing someone has your back throughout this difficult process. Our lawyers will help you take the necessary steps following your accident involving Uber or Lyft and ensure that everything goes smoothly along the way. Call 561-660-9421 to get a free case evaluation.
We serve clients throughout the state of Florida, including Boca Raton, Delray Beach, Pompano Beach, Deerfield Beach, Fort Lauderdale, and West Palm Beach.