What Do I Do After My Child is Injured in a Car Accident?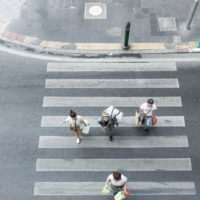 The smallest members of our families are also the most precious and we all want to do nothing but keep them safe. But unfortunately, while cars are convenient sources of transportation for all of us, they also pose a risk to everyone including young children. And tragically, when young children are involved in confidence, the results can be especially devastating.
What Recent Example of These Tragedies Was in the News?
The South Florida Sun Sentinel recently reported that a 2-year-old girl is dead and a 5-year-old girl is on life support after an Interstate 95 crash in Deerfield Beach. Florida Highway Patrol authorities have asserted that the crash involved two vehicles and that the 34-year-old driving the vehicle the children were riding in was not their mother. The accident was severe enough to close down multiple southbound lanes of traffic for more than five hours following the accident. The cause of the crash is currently under investigation.
How Often Are Young Children Injured in Car Accidents?
While no parent wants to contemplate the concept of their child potentially being injured, every parent should also be aware that the statistics concerning young children and accidents are grim. According to the Centers for Disease Control and Prevention, motor vehicle injuries are a leading cause of death among children in this country. In 2016, over seven hundred children who were 12 years old and younger died as occupants in motor vehicle crashes. Another 128,000 were injured. Fortunately, many of these deaths can be prevented.
What Should You Do if Your Child is Injured in an Accident?
Get medical help. If your child is hurt in an accident, the first thing you should do is make sure they receive proper medical care. In addition to treating obvious wounds and ensuring there are no hidden injuries, obtaining proper treatment can also preserve proof that is needed to later substantiate your claim against the negligent party.

Talk to an experienced personal injury attorney. If your child was injured during a car accident, it is important to discuss the circumstances of the crash with an experienced attorney as soon as possible who can help you to determine what claims should be filed in order to protect your child's legal rights and interests.
Has a Child You Love Been Injured in a Car Accident?
Car accidents can always have dire implications, but the results can be especially tragic when the accident involves a young person whose life is affected by the resulting injuries. And as hard as it can be for a young child to recover from his or her injuries, it is often just as difficult for the family of an injured young car accident victim to watch this process. Additionally, these kinds of injuries often come with significant costs in the form of unanticipated medical bills. It is important to understand that under Florida law you have the right to recover compensation for the injured young child that you love. The South Florida auto accident attorneys at Leifer & Ramirez have helped many other young victims of tragic accidents during over two decades of experience and we offer the legal help you need. Reach out to us for help today.
Resource:
sun-sentinel.com/local/broward/deerfield-beach/fl-ne-south-i95-closed-deerfield-crash-20190428-story.html
https://www.leiferlaw.com/the-tragic-implications-of-road-rage/