Understanding the Causes of Golf Cart Accidents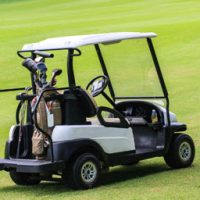 Golf carts are no longer used just on the golf course. Instead, they have become a primary mode of transportation in many residential neighborhoods and are increasingly being utilized in such public venues, especially here in the Sunshine State. But unfortunately, golf carts sharing the roadways with cars can lead to accidents that result in serious injury, or even death.
For example, Local 10 News recently reported that a man was ejected from a golf cart after a collision with a car that caused part of the MacArthur Causeway to shut down and led to the driver of the car being placed into custody regarding a DUI investigation. The early morning crash closed down the westbound lanes of the causeway which did not reopen until after 4:00 p.m. First responders took the man that fell from the golf cart to the Ryder Trauma Center at Jackson Memorial Hospital after it was uncovered that he had suffered a head injury. He remains in critical condition.
How Common Are Golf Cart Injuries?
Unfortunately, available statistics indicate that these injuries are quite common. According to the results of one study published by the American Journal of Preventive Medicine that examined data over a period of seventeen years, it was uncovered that an estimated 150,000 people were treated in emergency rooms in the U.S. for golf cart-related injuries during the study period. Falling from a golf cart was the most common cause of injury.
Why Are Golf Cart Accidents So Serious?
Lack of restraints. There's one good reason why so many people fall out of golf carts – most of them do not come equipped with seat belts or restraints. This increases the risk that the driver or passengers may fall out and helps explain why it is such a common cause of injury and death in golf cart accidents.
Open sides. Golf carts are easy to get in and out of because they don't have doors. However, this feature also allows for occupants to be more easily thrown from the vehicle.
Impaired driving. Unfortunately, alcohol is one of the major risk factors for golf cart accidents. There is a common misconception that golf cart is less serious of a vehicle than a car and therefore decreases the likelihood of serious injury.
Obtain Legal Help For Your Florida Golf Cart Accident.
If you have sustained a personal injury caused by a golf cart accident or crash, you have rights under the law and you may be entitled to compensation for your medical bills, lost wages and other damages. Therefore, if you or a loved one have been injured in a golf cart accident, it can help to consult an experienced South Florida personal injury lawyer about any golf cart accident liability questions. As the Florida attorneys of Leifer & Ramirez, we have the knowledge and experience you can rely on to quickly help you determine who is most at fault as well as how you should go about pursuing an effective claim. Contact us today for a free, no-obligation case evaluation.
Resource:
local10.com/news/local/miami/crash-between-car-and-golf-cart-shuts-down-part-of-macarthur-causeway
https://www.leiferlaw.com/injuries-from-unexpected-accidents/