The Tragic Results of Medical Errors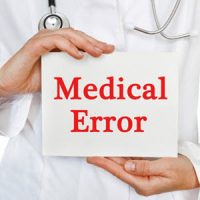 Anyone who entrusts a medical professional with their medical care is literally entrusting him or her with their health. Unfortunately, more than trust is often broken when a doctor fails to provide the treatment he or she promises. According to the results of a Johns Hopkins study published by CNBC, medical errors are actually the third-leading cause of death after heart disease and cancer. This equates to more than 250,000 people who die in the U.S. every year from medical errors. Other reports claim the numbers to be as high as 440,000.
What Tragic Example Was Recently in the News?
A Florida news outlet recently reported that a Virginia doctor has been arrested after he was accused of performing hysterectomies and other unnecessary medical procedures on patients without their consent. According to a federal affidavit, the investigation into the 69-year-old has been ongoing for more than a year after the FBI received a tip from a hospital employee that the doctor may be performing unnecessary surgeries on patients. Examples of the behavior the doctor is accused of include:
A 2012 incident in which the patient elected for a less invasive procedure to only remove her ovaries following the discovery of pre-cancerous cells and yet, when she woke up from surgery, she found that he had performed a total abdominal hysterectomy and had perforated her bladder in the process, which caused her to develop sepsis and be hospitalized for six days.
A patient who was reportedly treated for endometriosis and an ectopic pregnancy from 2011 to 2014 and found out when she went to obtain fertility treatments from another doctor in 2014 that she is now unable to conceive naturally as her fallopian tubes had been "burnt down to nubs". Her insurance had also been billed for unnecessary medical treatments.
Tragically, this isn't the first time the doctor has faced allegations of poor medical care or questionable behavior.
Back in 1982, he lost hospital privileges at a Portsmouth, Virginia hospital for performing unnecessary surgeries. In the mid-1990s, his medical license was temporarily revoked after he plead guilty to two counts of tax evasion in 1996 but was reinstated two years later.
The doctor has also reportedly been the subject of at least eight malpractice lawsuits in which plaintiffs accused him of everything from falsifying medical records to justifying unnecessary procedures. He was also accused of excessively performing up to 30 surgeries in one day and providing substandard care that caused permanent injuries in at least three patients. The disposition of the malpractice lawsuits is not clear.
Have You Been Injured as the Result of a Florida Doctor's Negligence? 
While you should be able to rely on the expertise of a medical professional you trust and should be able to depend on him or her to provide adequate care, sadly, you do not always get what you bargained for. The South Florida medical malpractice attorneys at Leifer & Ramirez understand the tragic consequences that can result from medical malpractice and have over 30 years of combined experience fighting for the rights of Florida injury victims like you. Contact us today for help.
Resource:
news4jax.com/health/doctor-accused-of-performing-hysterectomies-without-consent
https://www.leiferlaw.com/officials-at-johns-hopkins-childrens-hospital-resign-after-investigation/