The Importance of Witness Statements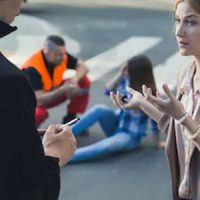 If you find yourself involved in one of the almost 400,000 car accidents that occur every year in this state, you know how confusing and overwhelming the aftermath of an accident can be. Between obtaining needed medical treatment and taking pictures of the scene, you may almost overlook any bystanders who happened to witness the accident. After all, there were almost 30 million emergency department visits for unintentional injuries like this resulting from car accidents in just one year. However, witnesses can actually be an essential factor in later proving that the other party was responsible for your accident and if possible, should be utilized.
Why Are Witnesses Important?
They can substantiate your assertions. When trying to prove negligence, unsurprisingly, the adverse party will often rebut your assertions. A witness who backs up your claims can help you prove that things happened the way you say they did.
They are disinterested parties. While your statements are likely truthful to the best of your knowledge, the reality is that the most credible statements can come from a witness who is a totally disinterested party to your lawsuit. Because witnesses weren't injured and have no interest in the outcome of your case, it is reasonable to assume that their statements are unbiased and objective.
They may see something you didn't. While you are focused on your injuries during an accident and the pain that likely comes with them, a third-party witness is simply taking in what he or she sees. That means that witnesses often see details the parties themselves may miss.
What Information Should You Ask a Witness for?
Name
Phone number and email
A short description of what he or she saw
Any pictures or video the witness recorded
Make sure you also write down a note for yourself of how he or she is dressed as well as a physical description. Once you have this information, you can later provide it to your personal injury attorney who can utilize this information in the way needed to maximize your claim.
Also Remember – Don't Let Your Statements be Used Against You.
Importantly, just as witness statements can be an asset for your case, they can just as easily be used against you. Following an accident, never allow yourself to be talked into making a statement to an adverse party or even to your own insurance company without obtaining legal help. Prior to making any kind of recorded statement, you should consult with an experienced legal team to discuss the circumstances of your injuries and what options you may have.
Allow Us to Help.

If you have been the victim of a car accident, one of your earliest steps should be obtaining competent legal help to assist you in preserving and maximizing your rights. As the South Florida personal injury attorneys at Leifer & Ramirez, we are proud to legally represent injury victims and we are dedicated to helping those in need fight for their right to obtain fair and just compensation. We offer the legal help you need to investigate the circumstances of your claim and help you demonstrate that the other party's negligent behavior resulted in your injuries. Contact us today to begin the process of holding the responsible parties accountable.
https://www.leiferlaw.com/updates-on-the-standard-regarding-the-expert-witnesses-that-are-important-to-your-personal-injury-case/