Suing For Florida Boating Accident Injuries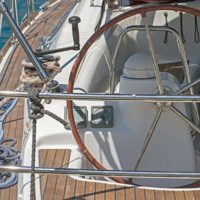 Florida is unparalleled when it comes to its beautiful coasts and bodies of water. People come from all around the country to enjoy its beaches and spend time boating, swimming, fishing, surfing, and skiing on its waters. During the summer months most Florida residents can be found spending time enjoying water sports and recreational activities in the bay. However, this fun is not without risk. Boating can quickly become dangerous when the weather changes or appropriate laws and precautions are not followed. If you have been injured in a Florida boating accident, you may be overwhelmed and unsure how to get the support that you need to move forward. Luckily, you may have legal avenues available to you that can help you recover.
When Can I Sue for a Florida Boating Accident Injury?
Not every injury sustained on a boat will give rise to a lawsuit. Some injuries could occur regardless of whether all the appropriate precautions were taken. In order to have grounds to bring a personal injury lawsuit in Florida, your injury must have been caused by another person's negligence. Negligence, for legal purposes, means that the individual breached the duty of reasonable care that is owed to other boaters and people on the water. Examples of negligence may include operating a boat while under the influence of drugs and alcohol, operating a boat without the proper license and permit, speeding, ignoring posted rules and regulations, and operating a boat in a reckless manner. If another boater's negligence was the direct cause of your injury, then you can sue to recover any damages that you suffered as a result.
Elements of a Boat Accident Lawsuit
The first element of a boating accident injury lawsuit is negligence, which we have discussed above. The next element is causation, which we also touched on. This means that the other person's negligence must have been the cause of your injury. If a person was boating negligently but it was not the cause of your injury, it will not satisfy the needed elements. Additionally, you must be able to demonstrate that you suffered injuries that were both physical and financial. This can be established with medical records, medical bills, and evidence of any other expenses incurred as a result of your injury. If you can establish these elements successfully, it will allow you to recover damages for your injury. Damages that you are entitled to include economic damages for all costs incurred. This covers all medical bills, treatment costs, lost wages, and reduced income, as well as transportation to medical appointments. You are also entitled to damages for pain and suffering. In some cases, punitive damages may also be appropriate.
Contact the Leifer & Ramirez in Boca Raton, Florida
If you have been injured in a Florida boating accident, the Boca Raton personal injury lawyers at the Leifer & Ramirez can help. Contact the Leifer & Ramirez today to schedule a consultation and find out how much your claim is worth.
Source:
flsenate.gov/Laws/Statutes/2011/768.81