Steps to Take After a Multi-Car Accident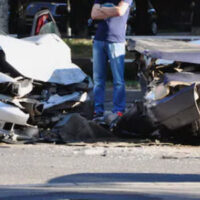 Sometimes referred to as pile-ups or chain-reaction crashes, multi-car accidents are complex and dangerous road collisions. These accidents typically involve three or more vehicles and can result in severe injuries and extensive property damage.
If you were involved in a Florida multi-car accident, it is essential to shield yourself from long-term health consequences and financial impacts. Taking immediate steps following an accident can ensure your safety, protect your legal rights, and ensure you will receive a full and fair compensation settlement. Talk to a Boca Raton auto accident lawyer to learn more.
Prioritizing Safety, Calling Police, and Exchanging Information
The first priority after a multi-car accident is ensuring your safety and the safety of all of the other individuals involved in the crash. If you are able to move your vehicle to a safe location out of harm's way, you should do so. For example, you could move your car to the shoulder of the road and turn on your hazard lights. You will also want to check on other drivers and passengers. If it is clear that someone is injured, call 911 immediately to request medical assistance.
Informing the police reporting the multi-car accident is also essential. This is a key step for future insurance claims and will provide the necessary documentation should you move forward with legal action at a later date. Police reports document the place and time of a collision as well as who was involved and if any injuries were sustained.
As you talk to law enforcement, it will also be a good time to collect the contact information of other drivers, including names, addresses, phone numbers, and insurance details. You will also want to note the make, model, and license plate numbers of all vehicles involved and if there were witnesses, ask for their names and contact information. Witness statements from pedestrians or individuals in local businesses who saw the accident happen can be crucial in supporting your version of events.
Severe injuries will be treated by ambulances and EMTs at the accident scene, but even if you don't feel seriously injured, seek medical attention as soon as possible after the multi-car accident. Some injuries, such as whiplash and internal injuries, do not present themselves immediately and can worsen over time without treatment. Receiving prompt medical care connects you with the treatment plan you need to heal and strengthens your injury claim.
Report the Accident to Your Insurance Company
When you notify your insurance company about the multi-car accident, provide them with accurate and detailed information about the collision so they can begin to initiate the claims process promptly. But if you are contacted by an insurance company or legal professional representing another person involved in the accident, do not supply them with a statement about the event. Instead, tell them to talk to your Boca Raton auto accident lawyer.
Is it time for you to file an injury claim after a multi-car collision but you are confused about how to start the process? Reach out to skilled professionals, contact Leifer & Ramirez. Call 561-660-9421 to schedule your fee-free consultation.