Six People Killed in Multi-Vehicle Crash Near Gainesville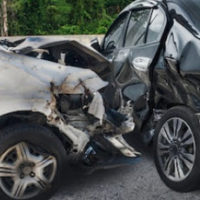 Six people, including five children, as well as a man from Albuquerque were killed in a multi-vehicle crash that involved a church van and two semi-trucks outside of Gainesville. Police say a semi operated by Steve Holland was northbound when his truck veered left and struck a car driven by Robyn Rattray. Both the car and truck then spun out of control and went through the divider in the center.
The truck then struck the church van, which proceeded to flip several times and eject some of the children on board. The truck then went on to strike a truck operated by Douglas Bolkema of Albuquerque. Both of the trucks and Rattray's car caught fire and a fifth vehicle struck one of the passengers that had been ejected from the van.
The National Transportation Safety Board would typically send team members to investigate the accident but can't due to the government shutdown.
What Are Multi-Vehicle Accidents?
Multi-vehicle car accidents are one of the most common types of car accidents. Although many of these are rear-end collisions or minor fender benders, some of them are high-speed multi-vehicle accidents that involve catastrophic injuries.
The more vehicles involved in a multi-vehicle accident, the more likely there are to be catastrophic injuries and significant damage. When these accidents occur, it can be difficult to determine who is at fault for the accident and damages. That means it is imperative that you contact an experienced auto accident attorney as quickly as possible.
Determining Fault in a Multi-Vehicle Accident
An experienced car accident attorney will investigate the accident and explore all possible avenues for obtaining the most amount of compensation possible. For example, it may seem as if the first vehicle to collide with another vehicle would be at fault for all the property damages and injuries in the accident, but that may not always be the case. Your attorney can help determine who is at fault for your damages and injuries. They will investigate things like traffic law violations, distracted driving, aggressive driving, driving under the influence of alcohol or drugs, weather conditions, dangerous road conditions, and defective auto parts.
If any of these issues apply to the drivers or vehicles involved in the accident, there could be multiple people at fault for the accident. When there is more than one at fault party, things can get complicated very quickly.
Contact an Experienced Car Accident Attorney Today
The attorneys at Leifer & Ramirez have been helping our clients get the compensation that they deserve after suffering injuries in a car accident for years and we can help you too. Contact us today at one of our Florida locations to schedule a consultation and let us take care of your claim so you can focus on your recovery. Florida has a statute of limitations for filing personal injury claims, so time is of essence. Call us as quickly as possible to ensure you meet the legal timelines for filing your claim.
Resource:
kob.com/albuquerque-news/albuquerque-man-killed-in-multi-vehicle-crash-in-florida/5199412/
/who-is-responsible-for-passenger-injuries-in-a-car-accident/