Should You Call a Lawyer or the Insurance Company First After a Car Accident?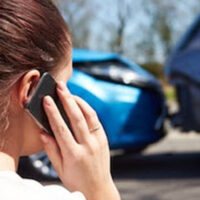 Being involved in a car accident can be scary and overwhelming. However, the steps you take in the aftermath of your accident will impact the outcome of your claim for compensation. One of the most common questions people have is whether they should call a lawyer or their insurance company first.
While it may seem like the logical choice to call the insurance company, there are some reasons why this may not be the best idea. Our Delray Beach car accident lawyers at Leifer & Ramirez can guide you through the process of recovering damages after your accident.
Why Calling the Insurance Company First May Be a Bad Idea
Calling your insurance company right away may seem like the most logical step after a car accident, but it is important to realize that insurance companies are in the business of making money. This means that their primary goal is to pay out as little as possible, even if it means undervaluing your claim. Insurance adjusters may try to rush your settlement before you fully understand the extent of your injuries or the full cost of your damages.
In addition, anything you say to your insurance company can be used against you later on. Insurance companies will often use recorded statements as evidence in court to deny your claim or reduce the amount they have to pay. This is why it's important to be careful when talking to your insurance company after a car accident.
Reasons to Call a Lawyer Before Calling the Insurance Company
There are several reasons why it's a good idea to call a lawyer before contacting your insurance company after a car accident:
They can help you understand your legal rights and options. A lawyer can guide you through the complex legal process and make sure you understand all of your options. They can also help you determine the true extent of your injuries and damages, which is crucial when negotiating with insurance companies.
They can communicate with the insurance company on your behalf. Once you hire a lawyer, the insurance company is legally required to communicate with your attorney instead of you. This means that you don't have to worry about saying something that could hurt your case.
They can negotiate a fair settlement. Lawyers are skilled negotiators who know how to push for the maximum amount of compensation you deserve. They can also help you understand whether a settlement offer is fair or not.
They can take legal action if necessary. If the insurance company is not willing to offer a fair settlement, a lawyer can file a lawsuit on your behalf and take the case to court. In general law, Florida law gives injured victims two years from the date of the injury to sue the at-fault party (Florida Statutes § 95.11).
If you have been in a car accident, do not hesitate to contact a qualified lawyer who can help you through this difficult time.
What if the Insurance Company Calls You Before You Contact a Lawyer?
It's not uncommon for insurance companies to contact you shortly after a car accident before you had a chance to speak with a lawyer. If this happens, it's important to be careful about what you say and to ask for the insurance adjuster's name, phone number, and email address. You can then politely tell them that you are in the process of seeking legal representation and that you will have your attorney contact them.
Need Legal Help? Contact Leifer & Ramirez
If you are involved in a car accident in Delray Beach, Fort Lauderdale, Boca Raton, or other parts of Florida, it's important to know your rights and understand the best course of action to take. Our lawyers at Leifer & Ramirez can assist you throughout the claims process to ensure that you get the compensation you need. Call 561-660-9421 for a free consultation.
Source:
leg.state.fl.us/Statutes/index.cfm?App_mode=Display_Statute&URL=0000-0099/0095/Sections/0095.11.html