Road Rage Drivers and Uber Accidents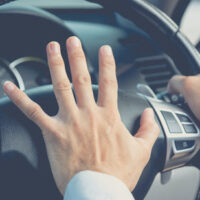 When you are stressed and stuck in bad traffic filled with angry drivers, Florida roads can feel like a battleground. And drivers for Uber or Lyft, who may be unfamiliar with an area, who are fuming with frustration can be incredibly dangerous. Consequences in these situations can be severe, resulting in accidents and injuries.
There are unique legal challenges that arise when road rage incidents intersect with rideshare services. If you are in the process of navigating the legal maze of driver responsibility and rideshare insurance issues after an accident in Delray Beach, Deerfield Beach, or Pompano Beach, connect with a Boca Raton personal injury lawyer.
Uber Drivers and Road Rage
While aggressive driving itself is dangerous, it is important to realize that road rage is an escalation of aggressive driving that becomes extremely risky and could include aggressive actions, verbal abuse, or physical altercations between drivers.
Rideshare drivers are human, so even though they are working and should be presenting themselves in a professional manner, they are not immune to road rage. If you were involved in an Uber accident that involved road rage, talk to a legal expert to secure the resolution you need. Any or all of the following issues may need to be reviewed.
Investigating liability. Identifying who is the at-fault party can be challenging when it comes to Florida road rage-related accidents. Complexities arise when there are multiple motorists. A thorough investigation may be required to establish liability accurately.
Rideshare insurance coverage. While rideshare companies may provide insurance coverage for their drivers, coverage levels can vary. For instance, if a driver was on assignment, en route to pick up a passenger, or driving for personal reasons will all impact insurance negotiations.
Physical injuries. If you were a passenger in an Uber or Lyft and were hurt during a road rage-related accident, you may have a legal right to seek compensation for your injuries.
If you or someone else has sustained an injury, seeking medical care immediately should be your top priority, even if the harm initially seems minor. Some injuries worsen over time or do not manifest symptoms in the moments and hours following a collision.
Contact Police, Notify Uber or Lyft, and Consult with an Attorney
Whether you were in the rideshare vehicle or were involved in an accident with a Lyft or Uber car, report the accident to the police and give them a detailed account of what happened. Be sure to obtain a copy of the report. And if you were in the rideshare vehicle, report the accident to the company through the app so they can initiate the claims process.
Plus, you should contact a Boca Raton personal injury lawyer who specializes in rideshare accidents and road rage cases so they can help you navigate the legal complexities. Having a legal pro on your side will smooth the process for you and could lead to better results.
Was road rage a factor in your rideshare accident? Connect with the skilled rideshare attorneys at Leifer & Ramirez. Book your consultation today, call 561-660-9421.