Mesothelioma: What You Need to Know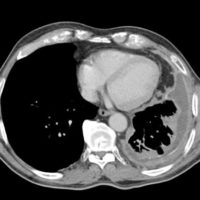 One of the most common health issues that arise from asbestos exposure is mesothelioma. This form of cancer occurs in the protective lining of the body's organs and can quickly spread throughout the body. The cells can often metastasize and spread long before a person realizes they even have cancer, leading to deadly results.
Mesothelioma often presents in three forms:
Cancer of the abdominal lining.
Cancer of the lung lining.
Cancer of the heart's lining.
What are the Symptoms?
The systems are not very specific, and some patients do not even show signs until up to 40 years after they were exposed to asbestos.
Once the symptoms appear, it is in the later stages of the disease, but these symptoms can include:
Frequent, unexplained shortness of breath
Pain in the chest
Unexplained weight loss
Abdominal pain
Abdominal swelling and frequent bloating
Bowel obstructions
Blood clotting issues
Fever
Anemia
Night sweats
The symptoms of mesothelioma are very similar to other conditions. Therefore, it is not uncommon for a physician to assume the patient has something else, only to discover much later on that it is cancer.
Are You At Risk?
While this form of cancer is very rare, if you or a loved one was exposed to asbestos, especially on a daily basis (such as a construction worker), the chances of developing this cancer are high. It is estimated that 70 to 80 percent of mesothelioma cases were the result of on-the-job exposure. It doesn't take long-term exposure either. There are some cases where brief exposures have caused these cancerous cells to develop.
Can You File a Personal Injury Claim?
If you or a loved one was exposed to asbestos and did not know the health risks at the time, you may have a personal injury claim. The state has created laws that allow victims to file their lawsuits, even decades after the exposure occurred. This law allows you to file from the date the illness was detected, rather than the typical exposure date.
Meet with an Attorney Today
The toxic effects of asbestos go well beyond just cancer. In fact you could develop other forms of cancer, illnesses and have chronic conditions because of that exposure. It is best to speak to a personal injury attorney that specializes in mesothelioma cases. An attorney can tell you right away if you have a case and if you qualify for a fair settlement.
Meet with the personal injury attorneys at Leifer & Ramirez today regarding your case. We offer free, no obligation consultations