How to navigate a parking lot crash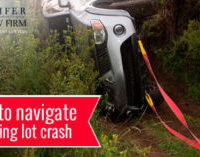 Even though it is not the holiday season, mall parking lots can still be busy and dangerous places. With the crush of tourists and local residents converging on shopping centers, it is no surprise that accidents can occur.
Indeed, mall parking lot accidents commonly do not lead to life changing injuries if you are in a car, but pedestrians can still be seriously injured.
Nevertheless, drivers should know what to do if they be involved in a parking lot crash. This post will highlight some helpful tips.
Exchange insurance information – It may seem obvious, but you would be surprised with how many people are not prepared to exchange insurance information, despite state law requiring drivers to carry proof of insurance.
If, for some reason the other driver does not have their information available, it could be a sign that they may not have insurance at all. , this may be indicative of another problem (such as lack of insurance).
Take and send pictures – Of course, using your cell phone while driving is not safe. However, it can be very handy in documenting damages after an accident. It may even more helpful if your insurer has a smartphone app that allows you to start a claim and send pictures from the accident scene.
Be careful when saying sorry – It is okay to feel bad about what happened, but this does not mean that you are automatically guilty. Admitting fault could be harmful to your case.
Get in Touch with Florida Auto Accident Attorney Today
If you have questions about your rights and options after a parking lot crash, contact an experienced personal injury attorney.
What a car accident in Florida means for your insurance? Learn from here: /2016/07/28/car-accident-in-florida-means-insurance/