How Does a "Bad Faith" Claim Against a Florida Auto Insurance Company Work?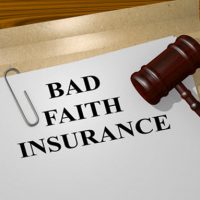 Insurance companies are not always quick to settle a claim arising from a car accident, even when their insured driver was clearly at fault. Such delays often frustrate accident victims, who are forced to deal with mounting medical bills and lost income while the insurance company continues to dither. In many cases, the insurer's tactics will lead the victim to forego any attempt at a negotiated settlement and file a personal injury lawsuit directly against the driver.
In this scenario, the driver–and by extension the victim–may have what is known as a "bad faith" claim against the insurer. Basically, if an insurance company fails to handle an accident claim in good faith, and the victim subsequently obtains a personal injury award in court, the insurer can be held responsible for the entire amount of that judgment, even when it exceeds the limits of the policy.
Federal Court Says Insurer May Be Liable for $52 Million Personal Injury Award
For example, the U.S. 11th Circuit Court of Appeals recently revived a bad-faith lawsuit brought in a Florida federal court against Progressive American Insurance Company. This case arose from a December 2013 car accident. A mother and her four young children were in their car and stopped at a red light. A second vehicle violently rear-ended the family's car, pushing it into a third vehicle. The mother and her children sustained serious injuries that required hospitalization. Indeed, the mother required a two-day stay in an intensive care unit, while one of her children, who was only two years old, sustained a traumatic brain injury.
Progressive insured the driver who rear-ended the family. It faced claims not only from the mother and the children, but also the driver of the third vehicle and a passenger in the negligent driver's car. Given all these claims, Progressive pursued what is known as a "global settlement" strategy–i.e., it wanted to resolve all of the claims at once for the policy limit, which was $500,000.
The settlement talks dragged out for several months. Eventually, the family decided to sue the negligent driver. They did so and ultimately obtained a $52 million award against the driver, who subsequently assigned his right to file a bad-faith claim against Progressive to the family.
A federal judge initially dismissed the bad-faith lawsuit, but the 11th Circuit said that was error and reversed. The appellate court explained that it was not enough to Progressive to simply offer a global settlement and wait for everyone to respond. The insurer needed to act with "haste and diligence," especially since it knew the family likely had a valid claim well in excess of the policy limits. Furthermore, the evidence presented to the trial court suggested Progressive never even advised its policyholder "about the possibility of an excess judgment" or what steps he could take to avoid it. While the 11th Circuit said a jury might ultimately decide there was no bad faith, the case still required trial to sort these issues out.
Speak with a Boca Raton Personal Injury Lawyer Today
People often assume that insurance companies will protect them in the event of an auto accident. But the reality is often not that simple. If you have been injured due to a driver's negligence and need an experienced Boca Raton car accident attorney to zealously represent your interests, contact Leifer & Ramirez today to schedule a free consultation.
Source:
scholar.google.com/scholar_case?case=9999233408597146603