Five Ways to Prevent Florida Boating Accidents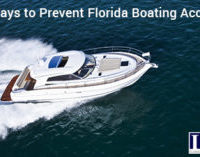 Summer marks the perfect time to head out on a boat in Boca Raton and elsewhere around Florida. But if you're not careful, before you know it, you could find yourself named in a personal injury accident if someone on your boat is injured while you are operating the vehicle.
It is important to make sure that everyone is on the same page with regard to safety standards before departing on any boating trip.
What follows are some of the best tips in order to help you have a great time out on the water while also keeping safety top of mind. Being aware of the potential safety risks can help you avoid a severe accident and a personal injury claim.
If you have already been injured, you may need to speak to a lawyer with experience in handling Florida boating accidents.
1. Always Keep the Emergency Radio Within Access
It can be a mistake to turn down the emergency radio because you find it annoying while you're out on the boat. If you turn off the emergency radio, you expose yourself to the risk of missing any emergency warnings about sudden storms or other hazards you might have missed.
One lawsuit in Pennsylvania, for example, settled in the double digit millions after two individuals were killed in a crash because the boat operator had turned the emergency radio down and missed critical crash warnings.
2. Never Speed
It can be tempting to show everyone on the vehicle the power of your boat and to hit the waves at maximum speed. But this can also put you at greater risk for a crash particularly if you are in the wake of another boat.
Make sure you always use reasonable care and are focused around other boats in the vicinity as well. Doing so can help you prevent a crash at high speed which could lead to catastrophic injuries.
Seeing how fast your boat can go could lead to injuries for everyone on board, especially if you're not able to avoid hitting another vessel. Keep the speed within the legal limits to avoid Florida boating accidents.
3. Ensure That Your Boat is Properly Maintained Before Hitting the Water
One last time before hitting the open waters for the summer and especially before you take off with a group of other people, make sure that all outstanding maintenance issues on your boat have been addressed.
It's also a good time to check on life jackets and other emergency materials so that if you need access to them, they are ready to be used if necessary.
If you're renting a boat, make sure you ask the rental company about any maintenance issues that have impacted the vessel recently.
Most companies conduct regular maintenance and safety checks on boats, but if it's your own boat, you need to make this a regular part of your routine.
4. Read the Liability Waiver Carefully if You're Renting a Boat
Even if you don't own a boat, you could still be held responsible in the event of an accident if you are renting a vehicle. If you are renting a boat in Florida, you will probably be asked to sign a liability waiver.
Usually these liability waivers hold the rental driver responsible for any injuries that happen. Make sure you look it over carefully and are confident that you understand the consequences. If you don't read this document in full, you may not realize how much risk you're exposed to in the form of a Florida boating accident claim.
5. Never Overload Your Boat
Taking on too many passengers or putting too much gear on the vessel before heading out could put you at greater risk of capsizing. It's better to make sure that you have weight evenly distributed and to have enough of a comfort zone to decrease the chances of being involved in an accident.
What Should I Do If I'm Involved in a Boating Accident?
Sometimes, despite your best efforts to avoid an accident, one happens anyways. In Florida, there were 634 boating accidents reported in 2014, for example.
Many of these accidents were completely preventable, and you can play an important role in curbing this number in 2016.
Consult with a Trusted Boating Accidents Attorney Florida
If you are involved in an accident, make sure you get medical attention immediately. Collect any evidence regarding what happened in the crash, then consult with a Florida boating accident attorney.
Check out this blog : 5 Most Common Summertime Injuries