Car Accident Personal Injuries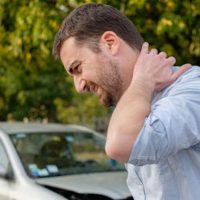 Thousands of Americans seek emergency room and other medical treatment every day due to preventable injuries. The Centers for Disease Control have reported that in 2016 alone, there were almost 30 million emergency department visits for unintentional injuries and almost 40 million physician office visits for unintentional injuries. Sadly, injuries are not the only consequence to be concerned about. In fact, the National Safety Council has indicated that accidental injury has become such a prevalent cause of death in this country that an American is accidentally injured every second and killed every three minutes by a preventable event.
Understanding Car Accident Personal Injuries
Unfortunately, many of these unintentional injuries and fatalities are personal injuries that occur because of the recklessness or negligence of someone else. In the blink of an eye, anyone can become hurt through no fault of their own. This is especially true in the context of being on the road where another driver can cause a sudden collision you could have never seen coming. Car accidents can lead to personal injuries such as:
Whiplash
Cuts and lacerations
Broken bones
Head injuries
Traumatic brain injuries
Spine damage
Paralysis
Amputation
In the most severe circumstances, death
Being injured in a car accident can obviously lead to tragic results and often trigger a range of unexpected emotions and physical consequences. However, understanding what to do next can help you ensure that you maximize the legal rights you may have to later hold the responsible parties accountable.
What Should You Do if You Are Involved in an Accident?
If you are involved in a car accident, you should proceed cautiously in the behaviors you undertake next. Emotions are heightened in this context and adrenaline is running. Therefore, you should take care not to say or do anything at the scene of the accident that could later be interpreted incorrectly by adverse parties. Regardless of whether you are immediately aware of personal injuries, undertake these steps:
Do not admit fault
Notify law enforcement officials immediately and obtain a copy of the accident report
If you can do so safely, take photos of the scene of the accident and record scene with your smartphone video camera
Seek medical treatment as soon as possible even if you think your injuries are minor
Document any medical care that you receive as well as the expenses, time missed from work, and travel
Have You or a Loved One Been Injured in an Accident Caused by Someone Else?
If you have been injured in an accident caused by the recklessness or negligence of someone else, you may have a right to compensation. As the South Florida car accident attorneys of Leifer & Ramirez, we advocate for personal injury victims who have been injured through no fault of their own. In addition to being able to review your case and help you determine how much compensation you may be entitled to, we can also address any concerns you may have. We are here to fight for you so that you can focus on fighting for your recovery for both yourself and your loved ones. Begin by contacting us today.
Resource:
cdc.gov/nchs/fastats/accidental-injury.htm
https://www.leiferlaw.com/will-my-pre-existing-injury-hurt-my-car-accident-injury-claim/