Avoiding Rear-End Accidents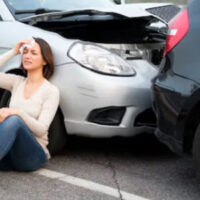 Many people think rear-end collisions amount to nothing more than nuisances. And many times, these accidents, which occur when the driver of a vehicle crashes into the vehicle that is driving ahead of him or her, are minor. However, in other contexts these collisions can be very dangerous.
The South Florida Sun Sentinel recently reported that a Davie patrol car was recently rear-ended by a distracted driver. The crash occurred late one Friday evening when several Davie police officers were investigating a suspicious vehicle and the patrol car involved in the rear-end crash was one of multiple Davie police cars at the scene. The police vehicles were stationary with their red and blue emergency lights flashing when one of the patrol cars was slammed into from behind. Fortunately, the officer was not in the vehicle and the driver who collided with the patrol car while admittedly using an app on her phone was not injured.
In this instance there were no injuries. However, these accidents can have much more serious implications.
How Often Do Rear-End Accidents Occur?
Rear-end accidents are actually one of the most common types of car accidents. There are about 1.7 million rear-end collisions on U.S. roadways each year that result in around a half million injuries. And unfortunately, injuries aren't the worst thing that can occur as a result of rear-end accidents.
According to the National Highway Traffic Safety Administration, over 2,300 people lost their lives in rear-end crashes in 2016 alone.
How Can I Help Avoid a Rear-end Collision?
Because of the nature of rear-end accidents, the reality is that they are not totally preventable because you have no control over who ends up driving behind you nor how he or she behaves. Almost everyone will be involved in a rear-end car accident at some point. However, there are certain behaviors that you can undertake to help you better your chances of avoiding a rear-end accident such as:
Avoid distracted driving
Don't brake suddenly
Check the car behind you in your mirrors often
Leave a large gap between you and the car in front of you
Be aware of rain and other poor weather conditions
Keep up with the maintenance on your car
Have You or a Loved One Been Injured in a Rear-end Accident?
Being involved in a car accident is never pleasant, and being involved in a rear-end collision can lead to especially unfortunate results. Whether you're the victim of the accident or the driver being held responsible, you're likely to be faced with medical bills, lost wages, pain and suffering, and/or emotional distress. The good news is that you probably have options under the law to help ease the financial burden your accident has likely placed on you and those you love. If you or a loved one have been injured in a rear-end car accident or any other vehicle collision, you need the help of the  South Florida rear end car accident attorneys at Leifer & Ramirez. We have over two decades of experience assisting car accident victims in situations like yours and we offer the legal help you need. Reach out to us for help today.
Resource:
sun-sentinel.com/local/broward/fl-ne-davie-police-car-hit-20190427-story.html
https://www.leiferlaw.com/the-potential-consequences-for-wheelchair-bound-accident-victims/