4 Must-Read Points for Your Medical Malpractice Case in Boca Raton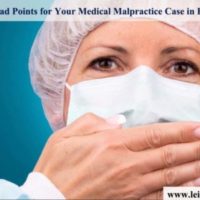 A medical malpractice case is essentially the same as a negligence case—but on steroids! The elements of negligence are as follows:
1) Someone had a duty to you
2) Someone breached that duty to you
3) You suffered injuries or an accident due to that breach or negligence
In regards to a medical malpractice case, if a patient has been harmed or injured after a medical procedure or treatment method, he or she has a right to file a claim.
However, simply being unhappy with the results of a medical treatment or procedure doesn't mean you have a medical malpractice case. In fact, the state of Florida has really cracked down on the laws surrounding patients suing doctors, hospitals, and other medical and health care practitioners.
A patient bringing a medical malpractice case must establish the elements of negligence to a very specific degree. You need to gather the appropriate evidence to establish each element.
1. Proving a Patient – Provider Relationship : Is a duty owed to you? You must prove that a healthcare provider (typically a doctor) and you had a patient-provider relationship. If a patient-provider relationship is established, that means that a doctor has a duty to you.
2. Medical Records Count : Get a copy of your medical records showing the treatments, procedures, and medications a particular doctor or health care provider provided you.
3. Breaching the Medical Standard of Care : So, what is that duty? When a patient-provider relationship exists, the doctor has a duty to provide the appropriate, reasonable level of care to you depending on the circumstances.
For example, if ten different doctors treated the same condition for ten different patients, then those ten doctors should treat those patients in the more or less same way (depending on medical history and specific conditions and circumstances, of course).
If you have reason to believe (and proof) that a doctor or other health care provider "breached" that medical standard of care, then you may have a medical malpractice case. However, proving that a physician did not adhere to the medical standard of care could mean gathering evidence and working with an expert witness, who will work along with your legal team.
4. Proof that You Suffered Damages : Lastly, in order to bring a successful medical malpractice claim, you must show more than just medical negligence occurred. You must show that you suffered as a result of the doctor not doing what he was supposed to do.
Consult with an Experienced Medical Malpractice Attorney Boca Raton
In order to see your medical malpractice claim through, it is wise to work with an experienced medical malpractice attorney. As you can see, medical malpractice claims can be complex and complicated, depending on the nature of the case and circumstances. Discover your options by working with a medical malpractice attorney today.
Also Read :