Woman Arrested for Abusing Elderly Woman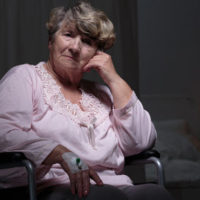 A woman from North Lauderdale was recently arrested after she left a woman that suffered from dementia alone in a hot bathtub for several hours. The Fort Lauderdale woman is facing charges of neglect of a disabled adult and elderly neglect. She was the caregiver for the woman with dementia.
The accused claimed the woman with dementia had only been in the tub for 20 minutes, but police say she had been there for approximately four hours. She was taken to the burn unit at Jackson Memorial Hospital where she was treated for blisters covering her legs.
What Is Elder Abuse?
Elder abuse is defined as any willful act or an act that a caregiver threatens that would cause significant impairment to the elderly person's mental, physical, or emotional health. These include both omissions and acts. Elder abuse also includes financial exploitation of the elderly person's assets, money, or other property with the intent to permanently or temporarily deprive the elderly person of its use.
Elder abuse may take the form of depriving a vulnerable person of food, clothing, nutrition, shelter, medication, supervision, money or other financial support, or medical treatments that they may need. It can also include failure on the part of a caregiver to provide the services, supervision, or care that the elderly person needs to maintain their health.
Florida Statutes for Elder Abuse
Florida statutes provide several solutions to protect the elderly from abuse and neglect. These include civil actions that are meant to recover assets as well as criminal sanctions.
Florida Statute 413.101- This statute recognizes that some people, due to disability or age, need protective services. This statute says that these individuals have the same rights as other citizens and must be protected from abuse, exploitation, and neglect.

Florida Statutes 825.101 and 825.103 – These statutes define what is considered exploitation, abuse, and neglect of an elderly or disabled person, as well as provide for criminal penalties for these crimes.

Florida Statute 415.1111 – This statute allows a vulnerable person that has suffered from abuse, neglect, or exploitation to file a civil action.

Florida Statute 415.1034 – This statute requires all health and mental health professionals including doctors, paramedics, nurses, spiritual healers, nursing home staff, social workers, criminal justice workers, and more to report abuse, neglect, and exploitation of vulnerable adults. These workers, and anyone else who reports suspected abuse, neglect, or exploitation of an elderly person are protected from retaliation by those that are being reported.
How an Elder Care Attorney Can Help
If you or someone you love has suffered from neglect, abuse, or exploitation at the hands of another person, you may be entitled to file a civil claim for compensation against the person who caused the abuse. This compensation may include medical expenses, pain and suffering, and more.
The Florida attorneys at Leifer & Ramirez have been helping protect their clients' rights for years and can help you too. Contact our office today to schedule a free consultation at one of our conveniently located Florida offices.
Resource:
local10.com/news/florida/broward/south-florida-caregiver-left-woman-alone-in-hot-bathtub-for-hours-police-say