What Injuries Can You Suffer In A Slip & Fall Accident?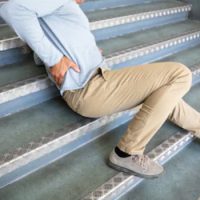 Slip and fall accidents can be frightening and traumatic experiences that often result in minor or serious injuries. When individuals slip and fall, they can suffer a variety of injuries that range from minor scrapes and bruises to more serious long-term damage to the body, such as brain and spinal cord injuries.
If you slipped or tripped and fell on someone else's property, you need to seek medical attention as soon as possible. Not all injuries caused by slip and fall accidents are apparent immediately. Additionally, you may be entitled to compensation for your medical bills and other expenses and losses resulting from the accident. Contact our Boca Raton slip and fall accident lawyers at Leifer & Ramirez to discuss your unique case and identify all possible sources of financial compensation.
Common Types of Injuries Resulting from Slip & Fall Accidents
Here is a non-exhaustive list of injuries people are likely to suffer when they slip and fall.
Hip Fractures
One of the most common injuries suffered in a slip and fall is a hip fracture. According to the Centers for Disease Control (CDC), over 95% of hip fractures occur as a result of falling, especially when the person falls sideways.
These fractures occur when the person falls hard on their hipbone, which is the large bone located at the top of the leg. Hip fractures usually require hospitalization, surgery, physical therapy, or a combination of these treatments in order to heal properly. The recovery time for a hip fracture depends on the severity of the injury but typically takes anywhere from six weeks to six months.
Sprained Wrist/Ankles
Another common injury resulting from slip and fall accidents is sprained wrists or ankles. These sprains occur when someone slips or trips and lands awkwardly on their wrist or ankle, causing it to twist unnaturally. Sprains are painful and can limit movement until they heal. Treatment typically includes applying ice to reduce swelling, wearing an elastic bandage or brace for support, taking anti-inflammatory medications such as ibuprofen, and resting until fully healed.
Traumatic Brain Injuries
Slip and fall accidents can also result in traumatic brain injuries (TBIs). TBIs occur when an individual suffers a blow to the head that causes permanent damage to their brain cells or tissue. Symptoms vary depending on the severity of the injury but may include:
headaches
impaired vision
difficulty with concentration, memory recall, or thinking
mood swings
seizures
nausea
fatigue
dizziness
sensitivity to light or sound
sleep disturbances
confusion, and many more
Treatment for TBIs is complex and often requires multiple medical professionals working together over time using both medical treatments as well as lifestyle changes (such as reducing stress levels) to ensure optimal recovery.
Spinal Cord Injuries
Spinal cord injuries are another possible outcome of a slip and fall accident. This type of injury occurs when there is significant trauma to the spinal cord due either to direct contact with something hard during a fall (such as concrete) or due to compression caused by extreme twisting motions during a fall. In the worst-case scenario, the victim could be left paralyzed due to severe damage to the spinal cord.
Treatment for spinal cord injuries typically involves immobilizing the patient as soon as possible after the accident so as not to further injure them. This is often followed by intensive physical therapy over time so that the patient may regain some level of mobility depending on how severe their injury was initially identified upon diagnosis.
Internal Organ Damage
Internal organ damage is yet another potential outcome for those suffering from slip and fall accidents, particularly if they land directly on something hard, resulting in the compression of the organs or another type of damage. This type of injury usually requires immediate surgery. If left untreated, the consequences can be dire.
Discuss Your Options for Compensation with Leifer & Ramirez
Regardless of what type of injury you suffered in a slip and fall accident, you might be entitled to compensation for your medical expenses and other losses. Discuss your unique situation with a skilled lawyer to determine the best way to pursue compensation in your case. Contact Leifer & Ramirez to schedule a free case review today. Call 561-660-9421.
We serve clients throughout the state of Florida, including Boca Raton, Delray Beach, Pompano Beach, Deerfield Beach, Fort Lauderdale, and West Palm Beach.