A Personal Injury Crisis: Slip and Fall Accidents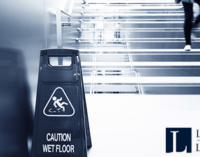 Consistently one of the top reasons for ER visits nationwide
Slip and Fall AccidentsUnintentional falls are a major cause of personal injury claims across the country, but they are especially prevalent and dangerous among Florida's large population of residents 65 and older.
Falls are the leading cause of injury death in this age group and the fourth leading cause of injury death for all age groups, according to a study on statewide unintentional slip and fall accidents by the Florida Department of Health's Injury Prevention Program.
What's more, non-fatal injuries due to falls are the #1 reason for hospital admission throughout the state. Around 2,500 Florida residents die every year because of a slip or fall, while another 63,000 are hospitalized.
The cost of these slip and fall injuries takes an enormous toll on the victims and healthcare throughout the state. The same Florida Department of Health study showed that the median hospital charge for an unintentional fall-related injury was over $46,000, more than the median hospital charge for all injuries at around $42,000.
Most of those injured had to stay in the hospital for around 4 days. The total cost for all of these hospitalizations due to falls was around $3.6 billion across the state.
Slip and fall accidents can cause any number of personal injuries, depending on the circumstances of the accident. Unfortunately, the data shows that most of the injuries reported tended to be either fatal or very serious, often resulting in the need for surgery, long term rehabilitation, or both.
An incredible 25 percent, one quarter of unintentional fall deaths, were caused by complications with hip fractures. Another 32 percent of hospitalizations were also due to hip fractures from falls.
Even more concerning, traumatic brain injuries from falls were responsible for 61 percent of all fall-related fatalities. These also accounted for 13 percent of hospitalizations.
While many of us would like to think that our homes are some of the safest places to be, it may seem that hazards are everywhere. In the case of slip and fall accidents in Florida, 78 percent occurred either in or around the place of residence.
The most common accidents were falls on the same level, including slips, trips and stumbles, followed by falls from stairs, steps, beds and ladders.
Falls are just one of the more commonly reported causes of personal injury. Sadly, unintentional injuries of all types are almost at health crisis levels in our state and the whole nation.
The Florida Department of Health estimates that almost 15,000 residents are fatally injured every year, while another 130,000 are hospitalized. These injuries cost a total of around $8 billion, translating to tens of thousands, even hundreds of thousands per individual. After suffering a personal injury, the money lost to medical bills alone can destroy lives and tear families apart.
Injuries can result in a terrible financial burden and have an immeasurable impact on your quality of life. The Centers for Disease Control and Prevention (CDC) estimated that the cost of medical bills and lost wages from injuries throughout the U.S. is $671 billion. Almost $214 billion of this is lost to fatal injuries, with $457 billion accounting for all other injuries.
Call the personal injury attorneys at Leifer & Ramirez today
If you or a loved one has slipped, tripped or fallen and suffered a personal injury or death, call Leifer & Ramirez. Injuries can be life-changing, but you don't have to go through this alone.
It may feel like the world is against you when you have been hurt, just to be bombarded by bills and paperwork while you are trying to recover. At Leifer & Ramirez they work to alleviate your burden.
Their team is ready to handle all aspects of your case with the same compassion and diligence that has resulted in millions of dollars in settlements.Call Leifer & Ramirez today.
Find out 6 ways to tell if you have a premises liability case: /2015/09/29/6-ways-to-tell-if-you-have-a-premises-liability-case/