Florida School Bus Crashes into Swimming Pool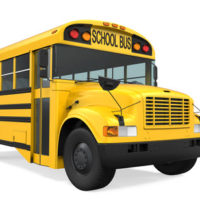 A school bus carrying nine students crashed into a swimming pool in the Pine Hills area near Orlando, Florida, according to Orange County Fire Rescue. The bus was heading to the school when a Jeep swerved and caused the accident. The bus traveled through a lawn before coming to a stop in the pool. The children and bus driver were not injured. The driver of the Jeep suffered non life threatening injuries and two of the three children in the Jeep were taken to the hospital to be examined.
Determining Fault in a School Bus Accident
When determining who is at fault for an accident, an experienced personal injury attorney will review police reports. Most of the time, these reports are correct, but not always. That is why it's important to determine how fault is assigned. When an event occurs that results in injuries, it is referred to as a tort. There are two types of torts – negligence and intentional.
Rarely are accidents involving school buses the result of intentional acts or intentional torts. Instead, negligence is typically the claim that is brought in these accidents. Negligence can be proven by showing that the driver had a duty to act in a specific manner and they breached that duty.
In addition to determining fault, there are a few additional laws to be aware of. These include the following:
Comparative fault – This means that each person involved in the accident is responsible to the extent of their own negligence.

Negligence Per Se – This theory states that if a law is in place to protect a specific class and the person breaks the law resulting in injuries to the class, that person is automatically considered negligent.

No-fault – In the state of Florida, drivers are required to have insurance coverage to pay for the first $10,000 in medical bills regardless of who is at fault.

Vicarious liability – When an employee is performing the duties of their job, the negligence may then be placed on the employer rather than the individual.

Negligent hiring – If an employer fails to verify the credentials of an employee, they may be found liable for their actions if they could have been warned of their employee through a background check.
Contact an Experienced Personal Injury Attorney Today
If your child has been injured in a school bus crash, it can be difficult to determine who is at fault and who to file a claim against. In the event of a school bus crash, not only could the bus driver be at fault, but so could the school, a third-party contracting agency, insurance companies, or even a party outside of the school. That is why it's imperative to have experienced legal representation on your side.
The Florida attorneys at Leifer & Ramirez understand that if your child has suffered injuries, you are already going through an incredibly stressful time. Let our experienced attorneys help you understand your legal options and handle your case, so you can focus on helping your child recover from their injuries. Contact us today to schedule a free and confidential consultation.
Resource:
weartv.com/news/nation-world/school-bus-crashes-into-swimming-pool-near-orlando-florida