Failing to follow Florida's Move Over Law Could Lead to Dangerous Accidents and Other Violation Penalties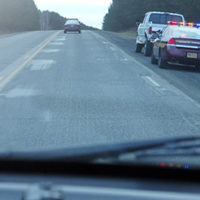 When you see an emergency vehicle stopped on the side of the road it is important to move over to another lane when you can do so safely. This is true for all stopped utility, sanitation, emergency, and wrecking service vehicles.
How to Avoid Violating the Law and Causing an Accident
If you are on a two-lane road, or you can't move over, it's a good idea to slow down to a speed 20 miles below the current posted speed limit.
If the posted speed limit is already less than 20 miles per hour, slow down to 5 miles per hour. If you fail to move over you could find yourself involved in a serious car accident that could injure or kill other individuals.
Service vehicles will almost always be colored brightly or have flashing lights and sounds in order to alert you to their location.
Violating Florida's Move Over Law could lead to fees, points on your driving record, and fines as outlined under Florida Statute 316.126.
If you spot another vehicle on the roadway, attempt to turn on your turn signal as soon as possible so that you can alert other drivers of your intention to move over.
Slowing down significantly can also help to avoid critical car accidents. Being aware of the situation can give you enough time to move over appropriately without endangering anyone.
Remember that individuals in stopped vehicles may be more likely to be out of the vehicle and be walking around, under, or beside it. This is one of the primary reasons that individuals who are struck in these kinds of accidents can sustain severe injuries or may even be killed.
It is your responsibility, on Florida's roads, to always be aware of your surroundings and to avoid engaging in violation of any laws that could put you and others at risk.

This is why the Florida Move Over Law requires that you get out of the way of these stopped service vehicles on the shoulder of roads wherever it is possible.
Even in the event that you move past a vehicle like this and do not get involved in an accident, you could still be facing penalties.
Make sure that you always keep your eyes open and notice any stopped service vehicles. Use your turn signal to indicate your intention to move over so that other cars on the road around you who may not have yet seen the stopped vehicle are aware of your intentions.
Being aware of your surroundings and avoiding any distractions is another critical way to avoid major car accidents with stopped vehicles on the side of the road.
Remember that individuals helping with emergency services at the side of the road may already be involved helping someone who has been through a car accident.
It is in your best interest to avoid another car accident, the fees, and the potential personal injury lawsuits that might otherwise impact you. Being injured by someone not paying attention can change your life forever.
Have you recently been struck by someone who failed to move over when you were on the side of the road? This could form the basis of a personal injury lawsuit in Florida.
Don't Wait! Contact An Expert Florida Auto Accident Attorney Today
You may be entitled to recover compensation if someone else has broken a law or was otherwise negligent in his or her behavior. One of the most important things you can do is to reach out to a personal injury attorney in Florida immediately.
An attorney for personal injury cases, can tell you more about your rights and the next steps involved in filing a lawsuit. Gathering evidence from the scene and collecting your medical records will likely be essential pieces of evidence for your personal claim should you decide to move forward with one.
Even if you do not currently intend to pursue a lawsuit, it is wise to schedule a meeting with a Florida personal injury attorney to walk through all of your options.
Related Post:
State with the Worst Drivers: Did Florida Win?
10 Distracted Driving Facts That Will Make You Think