Five things that teen drivers and parents should talk about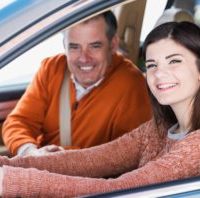 If you have a teen driver, or a teen who is chomping at the bit to get his or her driver's license, you have a right to be scared to death about how they will do on the road. After all, car accidents are the leading cause of death for young people aged 15-20. Additionally, young people are more apt to text while driving, disobey speed limits and take unnecessary chances. Because of this, it is imperative for parents and young drivers to be on the same page when it comes to the five most important things when it comes to driver safety.
The National Highway Traffic Safety Administration has established some important pointers, better known as "5 for Drive" that parents should review with teen drivers. While they may seem obvious, they are no less important because they could mean the difference between life and death. With that, we offer the five points that young drivers and parents should agree upon.
No cell phone use while behind the wheel – As much as distracted driving is a problem in Florida, teen drivers should not contribute to this problem.
No drinking and driving – Drivers under 21 years of age are prohibited from having alcohol in their systems while they are driving. Not only is drunk driving a crime, it can lead disastrous results.
Wear your seatbelt – The public service announcement has a point. A seatbelt can save your life.
Obey the speed limit – Excessive speed is a part of many fatal crashes involving young drivers.
Follow the law – It is important to know about the rules regarding teen passengers and adult supervision.