Child Dies After Being Pulled from Florida Hotel Pool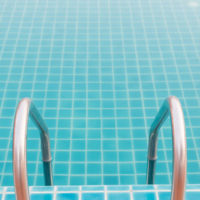 A five-year-old girl was recently pronounced dead at Dr. P.Phillips Hospital after being pulled from a pool at the Marriott's Harbour Lake hotel. Deputies for the Orange County Sheriff's Department responded to the call on a Sunday afternoon after the girl went underwater. She was pronounced dead later that evening. The agency says the drowning appears to be accidental.
Another seven-year-old boy, whose name has yet to be released, remains at the Florida Celebration Hospital after nearly drowning the same day at the Orlando World Center Marriott hotel.
Pool Owners and Premises Liability
Pool owners, whether in a public setting, private club, or private residence, can face liability when a visitor or swimmer to the pool is injured. This doesn't mean that the pool owner is automatically liable for the injury.
Premises liability is a term used to describe a set of laws that determine liability when the use of a building or land or a particular condition results in an injury. Premises liability usually recognizes three types of entrants onto the land, or in the case above, a swimming pool. These include invitees, licensees, and trespassers, and each type of entrant has a varying degree of care owed to them by the owner.
People who are enjoying the use of a public pool, whether free or charged a fee, are usually considered to be invitees. Pool owners are under an obligation to maintain and repair the pool so that the invitees aren't injured. Social guests on private property are considered licensees. Pool owners must warn licensees of any dangers that an average person wouldn't recognize.
A pool owner does not owe a trespasser a duty of care, except in the instance of a child. Under the attractive nuisance doctrine, owners have an obligation to keep their pool safe from young children who are too immature to understand the dangers of drowning. This includes preventing access to the pool.
Grounds for Liability
Certain risks, regardless of whether the person at the pool is a licensee or invitee, are too obvious to create a liability issue for the pool owner, such as wet slippery surfaces and dangers while diving from inappropriate places. However, it may not be obvious that a pool is too shallow for diving or has any hidden obstructions. Failing to warn patrons of those risks could create a liability.
In addition, if the pool is open to invitees like those pools at a hotel, the owner may be liable if they fail to provide emergency equipment like life preservers. Equipment such as diving boards, drains, and ladders must also be maintained and kept from being in disrepair. In some situations, pool owners may be held liable for failing to provide adequate supervision.
Contact an Experienced Premises Liability Attorney
If you or your loved one has been injured while swimming at a pool owned by a municipality, business, or other entity, you could be entitled to compensation. The knowledgeable attorneys at Leifer & Ramirez in Boca Raton can review your case and determine what type of damages you may be entitled to and the best course of action to take to recover them. Contact us today for a consultation at one of their convenient Florida locations.
Resources:
orlandosentinel.com/news/breaking-news/os-drowing-girl-dies-pool-marriott-harbor-lake-20180702-story.html
leg.state.fl.us/statutes/index.cfm?App_mode=Display_Statute&Search_String=&URL=0700-0799/0768/Sections/0768.075.html