Alexis Poole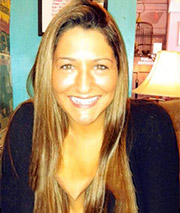 Alexis Poole was born in Waco, Texas but has been a resident of Boca Raton, Florida for 18 years. She is the newest member at Leifer Law Firm but has many years of experience as a paralegal in the personal injury field. She enjoys giving each client the one on one attention they deserve.
Her responsibilities as a case manager at Leifer Law Firm include interviewing potential clients, opening and reporting claims, working on claims for lost wages, property damage, lien resolutions, and summarizing and organizing medical records and bills. Alexis works closely with the attorneys and is in regular communication with our clients from the inception of the case to its conclusion.
When she is not working you can find her at the park with her two dogs or spending time with her husband and close friends and family.