Boca Raton Serious Injury Lawyer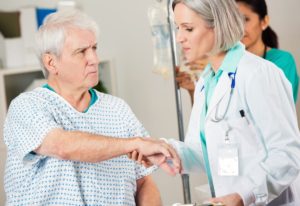 Serious injuries can change the victim's life in an instant. In other situations, an injury or illness may develop slowly, over a long period of time after exposure to a toxin or cancer-causing substance like asbestos.
When these injuries happen in an accident that was caused due to the negligence of another person, or they develop long-incubating diseases like mesothelioma, victims have the right to seek compensation from the responsible parties.
If you or a loved one has been injured in an accident that you did not cause or exposed to harmful chemicals, you should seek the advice of a reliable Boca Raton serious injury lawyer who can help you understand your rights and legal options.
Catastrophic Injury Attorney In Boca Raton
At Leifer & Ramirez, we are committed to seeing that the negligent parties who caused your injuries pay for the harm they have caused you, your child or an aging parent in a nursing home who may not be able to tell you how an accident has happened. Elderly patients often sustain fractures, back and neck injuries, burns and concussions. They are vulnerable and when mistreated, can die from complications associated with weakened immune systems or age.
We have the experience, the skill and the determination to fight for your rights and secure the justice you deserve. You can count on us to be there with you at every step and to see your case through to its conclusion.
Hiring Our Law Firm Can Make A Difference In The Outcome Of Your Case
When you hire our firm, we work diligently to determine what type of compensation you will need in the short and long term to accommodate your recovery and ongoing care. We work with economists, life planning experts and other specialists to get a clear picture of the type of compensation you will need. Armed with this knowledge, we are able to be much more proactive as we work to obtain the best possible outcome on your behalf.
Our firm has helped clients to resolve claims involving some of the most serious types of injuries, including:
Brain injuries, concussions, Traumatic Brain Injury (TBI) and other closed-head traumas
Spinal cord injuries resulting in permanent nerve damage or paralysis from automobile accidents, nursing home neglect or injuries from falling on unkept property
Neck and whiplash injuries and soft tissue injuries sustained in motor vehicle accidents and workplace injuries
Severe burns and permanent scarring from chemical exposure, explosions or accidents
Broken bones and crush injuries from work and rollover SUV accidents
Amputations in the workplace or from defective or unguarded machinery
Loss of sight due to concussions, spinal cord injuries or chemical burns to eyes
Call To Schedule Your Free Initial Consultation · Available 24/7
Contact one of our South Florida offices in Boca Raton, Fort Lauderdale or West Palm Beach today to discuss your case with a serious injury lawyer. We offer a free initial consultation where you can get your questions answered and receive an honest assessment of your case. We are available during regular business hours and for evening or weekend appointments. You can reach us by phone at 561-660-9421 or via e-mail.