Boca Raton Knee Replacement Lawyer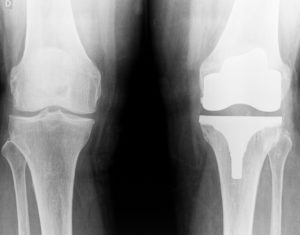 Zimmer Inc. is the manufacturer of a variety of joint replacement systems, including shoulders, elbows, hips and knees. In 2003, Zimmer launched a new series of knee replacement systems under the name NexGen. Several of the NexGen systems and/or their components have become the focus of multiple lawsuits for their unusually high failure rate.
The Replacement Knee Did Not Bond Properly With Bone, Causing Pain, Instability And Additional Surgeries
Many of the issues focused on the CR-Flex Porous Femoral component. Rather than being installed with cement, it was designed to bond to the knee through regular bone growth.
Concerns of a design flaw began to grow when a significant number of the components didn't bond as they were intended. The CR-Flex knee has been known to loosen in as little as two years, a remarkably short time when it was expected to last up to 15 years.
People who had the CR-Flex knee installed can face severe complications. In addition to the issues involved with the premature loosening of the component, patients often experience extreme pain, decreased stability and, in many cases, invasive and painful revision surgeries.
Florida Knee Replacement Lawsuit Attorneys
If you or a loved one has experienced any type of complication due to a defective knee replacement system, it is important that you seek legal advice immediately. At Leifer & Ramirez, we are currently reviewing cases for Zimmer knee replacement lawsuit eligibility. We will give you an honest assessment of your case and explain your legal options.
No matter what type of system you received or when the operation was performed, you would be well advised to have your case reviewed by a lawyer.
We can help you with the failure of any Zimmer component or system, including the Gender Solutions™ High-Flex knee replacement, CR-Flex High-Flex knee replacement, CR-Flex Porous Femoral component, LPS-Flex High-Flex knee replacement, the MIS tibial plate and others.
Call To Schedule Your Free Initial Consultation · Available 24/7
Contact one of our South Florida offices in Boca Raton, Fort Lauderdale or West Palm Beach today to discuss your Zimmer NexGen CR-Flex knee replacement lawsuit. We offer a free initial consultation and case evaluation to all new clients. We are available during regular business hours and for evening or weekend appointments.