Common Car Accident Injuries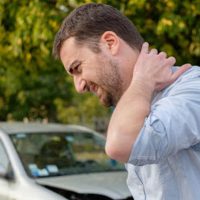 When you see the effects of a car accident, the first thing you likely see is the damage to the vehicle. The vehicle damage will often give you an idea of how badly the occupants were injured. Fender bender? Maybe some whiplash. What about if the car is totaled? There are probably serious injuries involved.
A car accident can result in a wide range of injuries due to the amount of force involved and where it is applied. The resulting injuries can be minor, moderate, long-term, permanent, or even fatal. Sometimes they cause pain right away. In other cases, it may take a while for injuries to appear. Here are some common car accident injuries you should be aware of.
Whiplash
 Whiplash is one of the most common injuries a person can suffer. The forces from a car accident can move your body in ways it should not be moving. This can cause your head to jerk back and forth suddenly, causing significant neck and back pain. If your muscles and ligaments feel strained, then this is likely whiplash.
Bruises 
Bruises are some of the most minor injuries you can face in a car accident. Thye can occur if you bump into something due to the impact or they can be caused by the pressure of the seat belt holding you in. Bruises are generally not serious and go away within several days.
 Broken Bones
 The impact of a crash can cause your body to hit other parts of the vehicle. This can put your arms, legs, ribs, hands, feet, and other body parts under extreme stress and cause broken bones. Broken bones are common injuries and while they are rarely permanent, they may be painful and require surgery and hardware to set your bones back into place.
 Back and Neck Injuries
 Even if you don't necessarily suffer whiplash, you can still suffer from neck and back injuries. The discs in your spine can rupture or become herniated. These injuries can be serious and very painful. In some cases, they can even limit your mobility. Physical therapy can help you with the healing process. Surgery may be necessary if your case is severe.
 Concussions/Traumatic Brain Injuries 
If you hit your head on your vehicle during a crash, the impact can cause various effects. You may suffer memory loss. You may feel dizzy. You might suffer from headaches, nausea, and balance issues. You may even lose consciousness or suffer from emotional issues. A concussion or traumatic brain injury can have long-term effects. Prompt treatment is necessary to manage your symptoms.
 Contact Us Today
A car accident can result in a wide range of injuries. They may be minor cuts or bruises or they may be major, life-changing ones like paralysis or a brain injury.
A Boca Raton auto accident lawyer from Leifer & Ramirez can assist you in getting the compensation you need, no matter how severe your injuries may be. To schedule a free consultation, fill out the online form or call 561-660-9421.
Source:
natlawreview.com/article/8-most-common-car-accident-injuries-and-what-to-do-about-them