Wrist And Hand Car Accident Injuries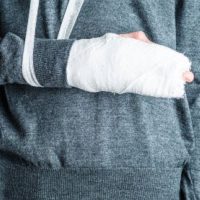 You may not consciously think about it, but you likely use your hands for just about every aspect of your daily life, including when performing job duties. For this reason, a hand injury can be devastating. There are over 27 bones in your wrist and hand, and all of these bones are vulnerable to breaking or fracturing in a car crash. Additionally, ligaments and nerve roots can be damaged in a car accident and require complex surgeries to repair. If you have suffered a serious hand or wrist injury due to another driver's negligence, a Florida personal injury lawyer can help you bring a lawsuit to reclaim the costs you had suffered as a result.
Car Accident Hand and Wrist Injuries
Fractured bones
Broken bones
Ligament Injuries
Nerve Damage
Amputation
Contusions and lacerations
Joint dislocation
Can I Sue for a Wrist or Hand Injury?
If your wrist or hand has been injured in a Florida car accident that was not your fault, you are able to sue to recover damages. Even if you were partially at fault for the accident, you may still be able to recover for damages provided you were less than 50% liable for the accident. In the event that you were partially at fault, your damages will simply be reduced by the amount of fault that you were attributed. In order to bring a successful lawsuit, you must be able to show that the other party was negligent. In order to be found negligent, the other party must have breached the duty of reasonable care owed to other drivers on the road. A driver is found automatically negligent if they were breaking the law, such as by speeding or driving under the influence. In addition to proving that the other driver was negligent, you must also be able to show that their negligence was the direct cause of your injury. Finally, you must demonstrate that your injury resulted in physical and financial harm, which can be proven with medical bills and records.
Damages for Hand and Wrist Injuries
A hand injury can have a serious impact on your life, in some cases preventing you from working or performing even simple daily tasks. This can cause negative financial repercussions that can be hard to recover from. A personal injury lawsuit allows you to recover from the financial harm you suffered as a result of the accident, by reimbursing you from all expenses that you incurred, including medical bills and lost income or lost earning potential. You are also entitled to damages for pain and suffering, which attempt to account for the physical and emotional trauma of the injury. In some cases, you may also be entitled to punitive damages.
Schedule a Consultation with the Leifer & Ramirez Today
If you or a loved one have suffered a hand or wrist injury due to another driver's negligence, contact the experienced Boca Raton car accident attorneys at the Leifer & Ramirez to schedule a consultation today.