Surgical Error Leads to Florida Woman Losing Her Kidney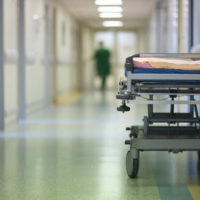 A surgeon from Florida has been sued for removing a healthy kidney from a woman who was undergoing surgery on her back because the doctor believed that the organ was a cancerous tumor. The woman says she didn't get a say in the removal of her vital organ.
She has sued surgeon Ramon Vazquez as well as two other surgeons who performed the operation. Vazquez's attorney, however, says the blame should be placed with the Wellington Regional Medical Center who failed to inform the doctor that the woman had a pelvic kidney.
Surgical Errors in Florida
Surgical errors can occur in any type of surgery regardless of how minor the surgical procedure may be. These errors may cause complications such as impeding healing or could even result in death. Although all errors don't mean that medical malpractice has taken place, many of them do result in a legal claim for medical malpractice. An experienced medical malpractice attorney can help you determine if your surgical error situation would make a good medical malpractice claim.
Types of Surgical Errors
Although surgical errors can come in the form of many different things, some of the most common include, but are not limited to, anesthesia errors, nerve injuries, organ tears or perforation, improper amputations, surgery performed on the wrong site or wrong patient, and surgical instruments being left in the body.
Causes of Surgical Errors
Several different things can result in surgical errors that lead to claims of medical malpractice. One of the most common is surgeon fatigue because doctors often work long hours and one surgery can last several hours. Fatigued surgeons are much more likely to make a critical mistake. Errors may also be caused by the following:
Surgeon incompetence – If a surgeon lacks the experience or skill to perform a procedure they should not attempt to do so. Surgeon incompetence may due to a lack of training or poor hiring procedures by the facility that the surgery was performed at.

Surgeon negligence – Failing to know the patient's medical history, using defective equipment, or failing to sanitize equipment are all examples of negligence.

Poor communication – Errors in communication can result in harm to the patient during surgery. It may result in the surgeon operating on the wrong site, cause medication errors, or result in surgical tools not being prepared in time for the surgery.
Surgical Error Medical Malpractice Claims
If you have been injured due to a surgical error, you will have to prove that the duty of care was breached by your surgeon. This is often done by using expert testimony regarding what a similarly trained physician would have done in the same situation. An experienced Florida medical malpractice attorney will be able to find an expert witness if needed, as well as determine what parties may be responsible for your injury. When it comes to surgical errors, multiple parties may be held liable including the surgeon, staff, and hospital or facility.
Seek Legal Representation
The attorneys at Leifer & Ramirez in Boynton Beach have years of experience helping our clients receive the compensation they deserve after being injured in a surgical error and we can help you too. Contact our office today to schedule a free consultation.
Resource:
wfla.com/news/florida/florida-surgeon-removes-healthy-kidney-he-thought-was-tumor/1578911527