Florida Mirena IUD Lawyer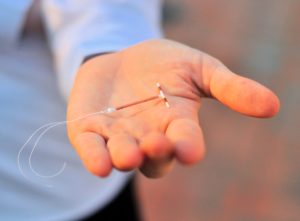 Leifer & Ramirez is reviewing potential Mirena IUD lawsuits involving patients who were implanted with the intrauterine contraceptive device, Mirena IUD and had to have the device surgically removed after it migrated, perforating the uterine lining.
Mirena IUD is manufactured by Bayer Healthcare Pharmaceuticals, Inc. It is an intrauterine device (IUD) intended to provide contraceptive protection for five years. Some women have experienced serious adverse side effects and potentially life threatening complications following the implantation of the Mirena IUD device, including perforation of or embedment in the uterus.
If you or someone you know had to have an implanted Mirena IUD device surgically removed because it migrated from its original position (extra uterine migration) and/or perforated the uterine lining, please call for a free, confidential consultation at 561-660-9421.
What Is Mirena?
Mirena IUD is a small, t-shaped plastic intrauterine device that releases a hormone called levonorgestrel that is released in 20mg/ daily initially into the uterus to prevent pregnancy for up to five (5) years.
The Manufacturer Used Deceptive Marketing To Sell This Product
The manufacturer of Mirena IUD, Bayer Healthcare Pharmaceuticals, INC. has been accused of using deceptive marketing tactics and failing to adequately warn consumers of the potential risks and dangerous complications associated with the product.
Women Report That This IUD Became Loose, Moved Inside The Uterus And Punctured The Uterine Wall
Some women have reported that the IUD has perforated the uterus and/or has become embedded in the uterine wall or migrated to another part of the body. These women have to undergo surgery to have the Mirena IUD removed.
This surgery may leave women with painful side effects from internal scarring, infection and/or damage to other organs leading to serious internal injuries such as:
Abscesses
Adhesions
Infection
Intestinal Obstruction
Perforation of the Intestine
The Mirena IUD Also Causes Severe Injuries And Side Effects
Several very serious device side effects and injuries have been linked to the Minera IUD, including organ perforation, migration or embedment, which often results in surgical removal of the device.
Since Mirena IUD was first approved, some users have reported the following side effects:
Embedment of the advice in the uterine wall
Irregular spotting or bleeding
Painful menstruation
Pelvic inflammatory disease (PID)
Pelvic pain
Perforation of the uterine wall or cervix
For A Full Evaluation If You Have Used Any IUD, Contact A Mirena Side Effect Lawyer
At Leifer & Ramirez in Boca Raton, our attorneys have the resources and experience needed to handle cases involving the contraceptive, Mirena IUD. When a patient suffers injuries due to a defective medical device, Leifer & Ramirez is there to help. A lawyer will explain your legal options and give you an honest assessment of the strength of your claim.
If you or anyone you know has suffered any side effects and/or debilitating complications due to the Mirena IUD we invite you to contact Leifer & Ramirez for a free, confidential consultation.